Dog T-Shirt Suit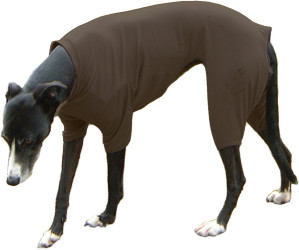 If you have a HOTTERdog trade account, please sign in to place your order. Only registered trade account holders can order online. HOTTERdog products are available to retail customers across the UK and Europe from our network of stockists.

The HOTTERdog Dog T-Shirt Suit is made from our T-shirting (98% cotton and 2% elastane) for dogs with debilitating rashes and grass allergy conditions, hair loss in the summer and keeping dressings covered in awkward places.
Like our Dog T-Shirt Body, canine behaviourists recommend it as a "protective wrap" having proved it to be a miracle cure for many dogs with nervous tendencies. It is exceptionally easy to fit and remove and will not misshape with use and age.
It covers as much of the dog as possible (without interfering with bodily functions) with a small collar and short sleeves.
The Dog T-Shirt Suit comes in eight sizes and four colours – Black, Steel Blue, Brown and Dusky Rose.
Optimum retail price is £20.00 to £26.00 according to size.