Dog T-Shirt Body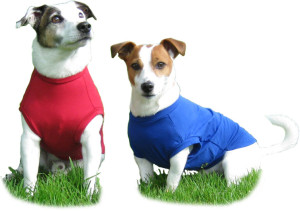 If you have a HOTTERdog trade account, please sign in to place your order. Only registered trade account holders can order online. HOTTERdog products are available to retail customers across the UK and Europe from our network of stockists.

The HOTTERdog Dog T-Shirt Body is the perfect garment for dogs with rashes and grass allergies, hair loss or keeping dressings in place.
In addition, the use of a T-Shirt is highly recommended by canine behaviourists as a "protective portable hug" to calm a dog when anxiety strikes – for instance during thunderstorms and firework displays.
Another use of the T-Shirt Body is as a light weight cooling vest. Soaked in cold water before wearing, the T-shirt is extremely effective in helping to keep your dog cool, taking up to four hours to fully dry while the evaporating water lowers the dog's body temperature – great for hot days.
The Dog T-Shirt Body is made from 98% cotton and 2% elastane, is soft, comfortable, easy to fit and remove and will not mis-shape with use and age.
It comes in eight sizes and six colours – Black, Red, Blue, Brown, Lime Yellow and Raspberry Pink.
Recommended retail price is £15.00 to £21.00 according to size.