Dog Summer Suit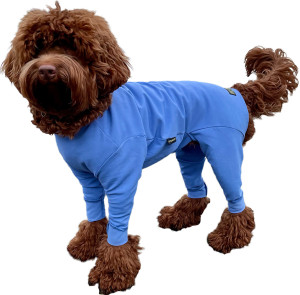 If you have a HOTTERdog trade account, please sign in to place your order. Only registered trade account holders can order online. HOTTERdog products are available to retail customers across the UK and Europe from our network of stockists.

The HOTTERdog Summer Suit is designed to help dogs cope with the wet British summers and can also help keep dogs clean in muddy conditions.
Made from a super-stretchy technical fabric and originally conceived as a Tick Suit, this garment is designed to be a bit more fitting without being tight, made easy by the elasticity of the fabric. As a result, they are brilliant at providing all over protection against mud, sand, grass seeds etc - especially for dogs with allergies. Or as a post-op garment to cover dressings.
The Dog Summer Suit comes in fourteen sizes ranging from 12" to 40" and in six colours – Black, Mulberry, Teal, Raspberry Red, Cornflower Blue and Orange.
Optimum retail price is £22.00 to £40.00 according to size.